Welcome to Southern Baking at its Best!
We are dessert caterers located in Orange County, California. We specialize in baking delicious, downhome Southern pies, cakes, cobblers, candies and more. We do not have a storefront, as we are a Dessert Catering company. We offer local dessert delivery for a fee.
All of our desserts are lovingly handmade from scratch in small batches, using only the finest natural ingredients available "just like Grandma used to make it!"
Some of our desserts can be made with reduced sugar. Please call us for details.
We will cater for any occasion – from backyard BBQ's and family gatherings to elegant corporate events, weddings, and showers.
We are excited to announce that CBS/LA pronounced our Pecan Pie one of the "Best Pecan Pies in Orange County."
Dessert Spotlight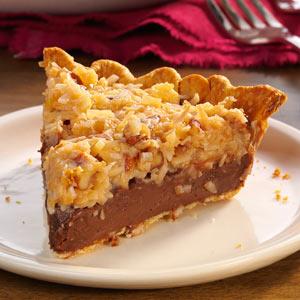 German Chocolate Pie - $42.00
All the goodness of German Chocolate Cake in a luscious pie!
It is our hope that these delicious desserts will take you back to simpler times, and conjure up those precious memories of days gone by! We guarantee that you will enjoy every luscious bite of our classic desserts or your money back!